Interview Skills Training
Get the most out of it
Learn Interview Skills
It is not difficult to pass the written round during a company's hiring process. However, the job interview is a real test of your skills. As long as you know your subject and are proficient in it, you can easily succeed in the written examination.
A job interview is a great chance to impress the interviewer. In an interview, the interviewer not only judges you based on your technical and theoretical skills but also based on your personality, your social skills, and your communication skills. Thus you must get the most out of your interviews.
You need to be prepared for the interview and ensure you are confident in your words and know what you are talking about. Be humble but firm in your words and manners. Make sure you are confident and not overconfident about your achievements and skills.
Improve interview skills with us. We provide training sessions and modules to help you improving interview skills. We make you ready for your dream job with our top-class courses and one-to-one training sessions.
Tips for a successful job interview:
● Be Punctual. You must arrive at your interview on time. It is better that you arrive at the location a couple of minutes before the exact time of the interview. Punctuality doesn't only show how organized you are but also how serious you are about the job and things in your life.
● Don't comment negatively about any aspect of your life, be it about your college, your previous workplace, or your ex-colleagues. Talking negatively about your old company or colleagues can leave a bad impression on the interviewer.
● Most people think that an interview is about how they present their words and believe that the only thing they need to concentrate on is the verbal aspect of communication. However, non-verbal communication plays a very important role during an interview.
● The way you carry yourself, sit, or dress also represents your personality traits. Your body movement is considered a sign of your inner attitude and emotions. Thus make sure that you carry yourself well and dress clean and proper for an interview.
● Don't be caught off guard by personal questions. Interviewers like to ask you personal questions to get to know more about you and to see how you handle personal questions and whether you can keep your composure.
Get your dream job with Interview Skills Development
Are you looking for a job but are nervous about your job interview? Well, interview skills are both a science and art in themselves. Interview skills are more like convincing skills. These skills are necessary if you wish to get a job and are just as important as the qualifications in your resume.
During an interview, you must convince the interviewer or the employer that you are the best candidate for the role. An interview is one of the most important steps of the hiring process and helps the company analyze potential employees and their abilities, technicality, and proficiency.
Moreover, your interview skills reflect your communication skills, and an interviewer judges you on your interviewing skills to know about your personality, presentation skills, and communication skills.
Having good skill for interview is important because it makes you comfortable and confident in yourself and helps your employer judge your potential and your ability to accomplish goals and tasks in the workplace. Your interview skills are a way to sell yourself to the interviewer.
Just like good marketing skills can attract potential customers, if you have good interview skills, you can attract the attention of potential companies. Interview skills also are a test of your temperament. The interviewer judges communication and social skills based on your interview skills and whether you can handle tough situations and remain cool under pressure or not.
Are you wondering how I can improve my interview skills and are looking for interview skills training near me? Well, you don't need to go far. Orator Academy provides excellent interview skills modules and training sessions that can help you ace your interview. We also provide interview skills training online. Learn more about our services on our website or contact us.
How Interview Skills Can Enhance Your Life?
Interview skills can help you ace your interview and secure your dream job. They help you gain a positive outlook on life and help you stay enthusiastic and positive during your entire interview. Interview skills make you more confident while facing the interviewer or other people in the future in your life.
Interview skill enhancement can help you with your personality development and social development. These skills make you confident when speaking your thoughts and teach you when and where to speak what. Learn interview skills with us at Orator Academy!
Some amazing interview skills to ace an interview:
● Research in detail about the company you are interviewing for. Not knowing about the company is not only rude but also makes you look irresponsible. Thus make sure to read about the history, values, and motto of the company you are going to interview for.
● You should be aware of every single detail you have written in your resume, especially your vision and mission. It is your resume, and you should be aware of your own skills, hobbies, and achievements. Thus, make sure you read your resume well.
● Don't keep your thoughts in your mind but speak them out loud. It is not a good idea to sit in silence while thinking about an answer. You need to keep talking and engage the interviewer so think out loud.
● Listen to the question carefully and let the interviewer complete the question before speaking out. Never interrupt the interviewer in the middle. It is very rude and disrespectful. You can even request the interviewer to repeat the question but make sure that you are clear on the question before answering.
● Speak with confidence but don't be overconfident about your achievements. Don't boast, and stay humble. Make sure that your voice comes out confident and not squeaky and doubtful.
Improve Your Interview Skills
Make your career shine with improved Interview Skills
At Orator Academy, our coach trains you and helps you master interview skills. We have various courses, job interview skills training sessions, and seminars that can help you improving interviewing skills. We have the most skilled personnel to train you for interviews, and we provide one-to-one sessions, interview skill training modules, and group sessions to help you become more confident.
Contact us now to enroll in our courses and training sessions and learn more about our services and facilities. We provide self-paced and insightful courses and sessions for improving public speaking skills, interview skills, and personality skills. We can assist in your interview skill development.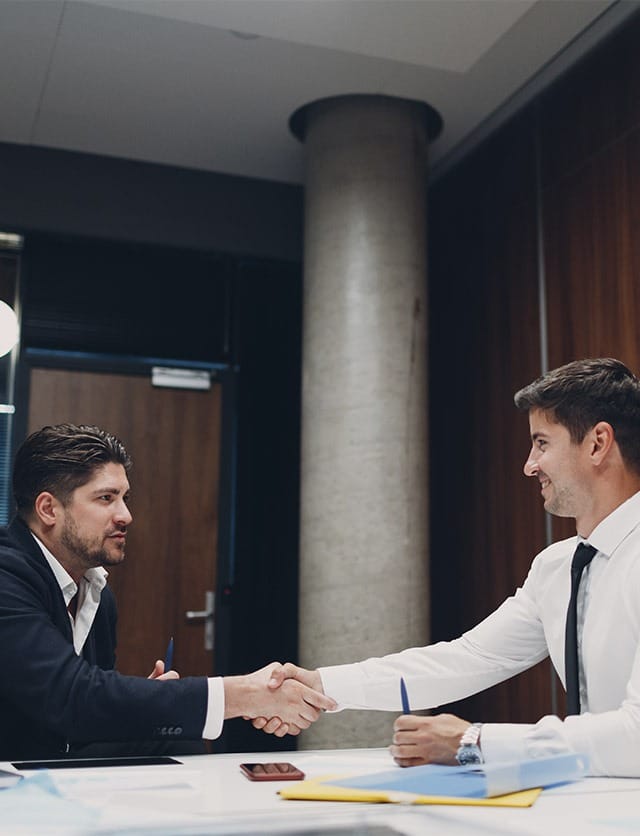 My major is finance and international business and we do lots of presentations and it has been awesome since I am able to speak without any hesitation. Today, I presented a marketing campaign to board of directors and they loved it. All thanks to you for teaching me how to confidently public speak.
Thank you for the excellent class. Julia enjoyed it very much, she learned a lot and she is very excited talking about it.
Speaking in a group or in front of a crowd was a distant dream, until I met coach Vineeta. At Orator Academy I learned to speak from my heart rather than making a failing attempt to impress the audience. Vineeta's key guidelines on how to connect with people while speaking and emphasis on right pronunciation helped boost my confidence. I would highly recommend her, if you want to get over your fear of public speaking.